(Speaker 2019) Dr. Jos Joore
Dr. Jos Joore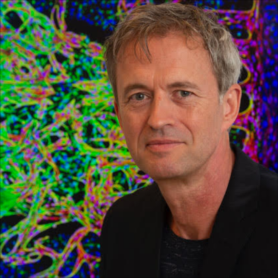 About
Jos Joore is a biotech entrepreneur with over 20 years of executive level bio-business experience and 8 years in biosciences. As CEO and co-founder of MIMETAS (www.mimetas.com, Leiden), Jos closed deals with most top-10 pharma companies, secured series A and B investment rounds and enabled mass production & global marketing of OrganoPlates. Jos also co-founded and led Pepscope (www.pepscope.com, Utrecht) and Spreekmeesters (www.spreekmeesters.nl, Utrecht), active in the field of protein kinase profiling and presentation training for scientists, respectively. Previously, he has held managerial positions within biotech companies Pepscan, Skyline Diagnostics, Kreatech and Westburg. Jos holds a masters degree in Biology, a Ph.D. in Developmental Biology and a cum laude masters degree in Business Marketing.
Presentation Abstract
What if we could test new therapies on organs-on-chips, before we give them to patients? MIMETAS develops organ-on- a-chip products, tissue and disease models for therapeutic testing, screening, and fundamental research. Its flagship product, the OrganoPlate®, supports 3D cell culture under continuous perfusion, with membrane-free co-culture and epithelial and endothelial tubules. The company develops and validates customized disease, toxicology, and transport models and ultimately will make its technology available for personalized therapy selection. MIMETAS has developed models for the kidney, liver, gut, brain, and a range of oncological applications, that offer better predictivity towards human physiology as compared to laboratory animals and conventional cell culture models.
Website:  www.mimetas.com